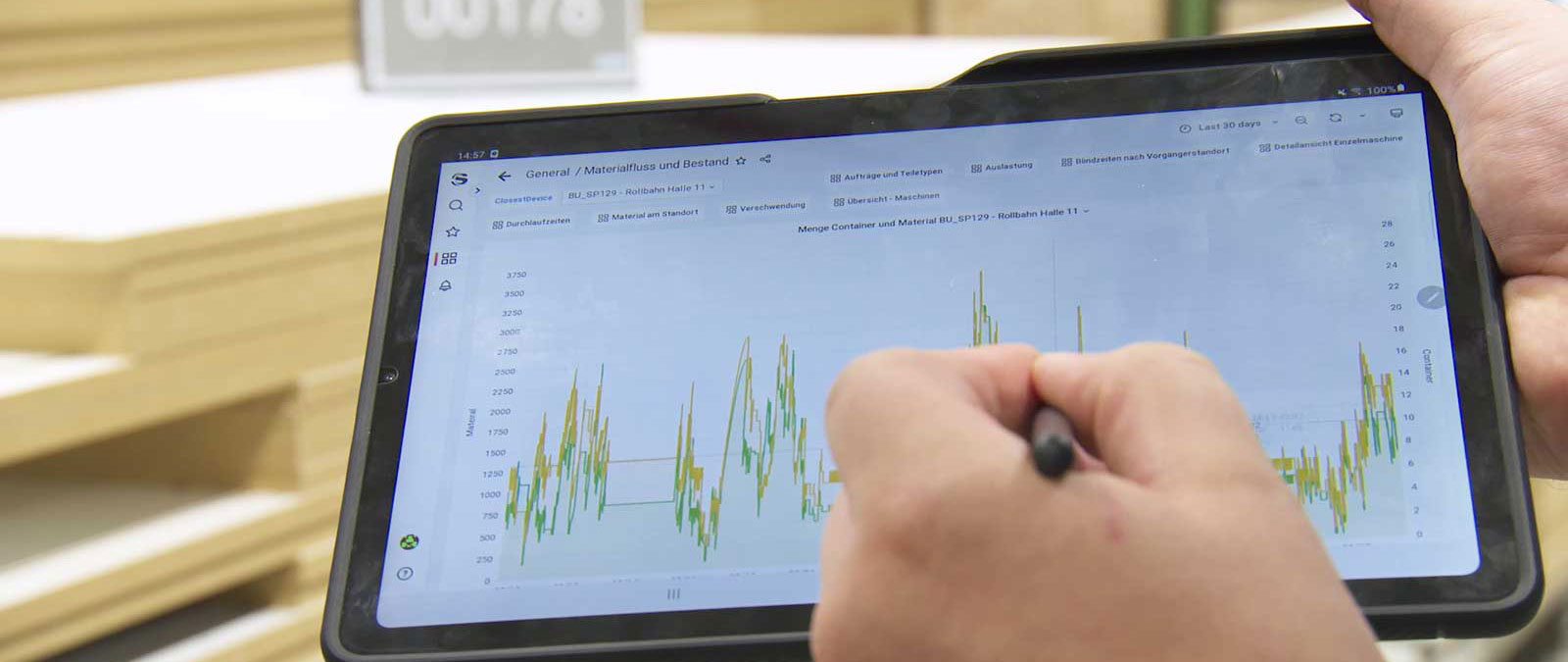 Digital Value Stream Optimization
A service based on beacons and smartphones
"The weakest process determines the production output." What's the problem? To identify this process in your production, you first need one thing: lots of data. Fast moving parts, very short throughput times and different types of machines of different ages make production data collection in the wood and furniture industry a challenge. If you wanted to know the processes in your production, you used to send an employee with a stopwatch into the production hall. A costly and time-consuming undertaking that no longer meets the complex requirements of today's productions. Get to know digital value stream optimisation here!
Benefits
Plug-and-play installation of hardware and software without an IT project.
A tool that evaluates your material and goods flows based on digital traces
A paperless system to find your materials in real time
XaaS - everything as a service - with hardware, software and platform that you can rent according to your needs
Value stream optimisation based on key performance indicators, e.g. inventory, labour minutes, yield, etc.
Concrete optimisation of the value stream in your production by SCHULER
You receive standard values for processing times, for more precise production scheduling and production control, as a basis for piecework wages and for cost planning.
Combined with your machine hourly rate, you now have your process costs at component level
Times, costs and values become visible
At SCHULER Consulting, we use digital technologies for data collection as part of a value stream analysis: By using common smartphone technology, it is already possible to collect production data regardless of the machine type, manufacturer or application area - and without a great deal of personnel effort or high implementation costs. Based on the collected data, we identify redundant and cost-intensive processes and develop targeted optimisation measures for your value stream.
Technical and methodological requirements
A set consisting of proven calculation methodology, Bluetooth low energy beacons and smartphones provides you with everything you need to know the actual value-added time in your production and to implement optimisation measures in a targeted manner. In production, the smartphone takes over the external sensory monitoring of the machines and workplaces. It does not have any software interfaces and can therefore run completely externally. In interaction with the Bluetooth LE beacons, it can, for example, localise the stacks in a production. Using our calculation methodology, this hardware and software set can be used to collect a lot of machine and operational data with almost no employee interaction. The technology works for any machine and in any production context, whether furniture, kitchen, shop or timber construction.
Finding every stack of material in production at the touch of a button, viewing the progress of current orders, receiving target and processing times as well as automatically generated unit costs is thus no longer just wishful thinking, but the next step towards complete production transparency.
The ten most frequently asked questions
1. How can I use a digital value stream analysis to identify where there are superfluous processes in my production and where exactly I can save costs?
In order to identify where costs can be saved in production, a change of perspective helps: like on a radar image on which air traffic controllers can observe the flight movements, a digital value stream optimisation maps the material flow of production. You can see the loops that a stack makes and also the times that it leaves behind on its way. A digital value stream analysis can map this very precisely on any factory layout and thus identify the pain points.
2. What concrete information does a digital value stream analysis give me about the optimisation and savings potential of my production?
As soon as the smartphones and beacons are installed, the digital value stream analysis shows you exactly where your money is lying. Then you can also see the effects of each optimisation intervention. In this way, a value stream can be refined even further in the long term after the initial optimisation.
3. My value stream is highly complex. Even the manual recording of all material flows costs days, if not weeks. How can a digital value stream analysis map the processes of such complex productions?
This is definitely possible through the combination of our consulting know-how and the use of digital technologies. Together with our customer, we determine the part families and stacks that are to be tracked in a production. So-called "beacons" - small electronic components - are then attached to these stacks. Via the smartphones, they report their positions and dwell times to a central app, which documents everything in detail.
4. Does the method of digital value stream mapping also work in production with variable batch sizes and flexible processing sequences?
Even in complex production with variable batch sizes and part families, there is often still huge potential for optimisation. In these cases, a value stream analysis is helpful to derive certain regularities from this complexity - or to identify randomness and make deviations visible. This makes it possible to derive the appropriate optimisation measures from a bird's eye view. The goal is always to increase productivity.
5. Which answers does a digital value stream analysis provide with regard to my production and customer orders?
A digital value stream analysis creates the necessary transparency to have a precise overview of the material flow at all times. This data enables conclusions to be drawn about individual production and customer orders. The time-consuming stack search with the material list in hand thus becomes an outdated scenario.
6. The exact calculation of all manufacturing costs is very complex. Our quotation calculation therefore takes into account empirical values and complexity surcharges. What possibilities does digital value stream optimisation offer to make this process more transparent without always having to re-measure all manufacturing processes individually?
Based on your data from the digital value stream analysis, we not only develop suitable measures to increase productivity, but also use an algorithm to determine the exact times that are decisive for your calculation. The values obtained only need to be multiplied by your machine hour rates. Now you have highly accurate calculation values in your hand, which enables you to make an accurate quotation calculation.
7. How long will the technical implementation take? Which costs will be charged?
The installation of the digital measuring technology on site takes three man-days. Each machine and workplace that is recorded costs about as much as a cheap smartphone. In addition, there is one day for the preparation of the report and the action plan. In this variant, which we call "value stream light", machine performance and order throughput time are analysed and optimised. In addition, we also offer a comprehensive value stream creation at individual part level.
8. For which fields of application is the digital value stream optimisation suitable?
It is suitable wherever you want to analyse and streamline production processes. Be it to optimise the cycle times on an automatic production line in timber construction or to create time modules for price calculation for the sales department of a shop fitter. Value stream management also offers versatile optimisation and analysis approaches in kitchen and furniture manufacturing: For example, smartphone sensors make it possible to find special parts in the sorting process or even locate missing parts.
9. Which machine workplaces can be analysed?
The technology is universally applicable and can be installed at any workstation. Any machine, regardless of manufacturer, can be included in the data acquisition. You could even use it to track the washing machine in your own household.
10. For productions of which size is the digital method of value stream mapping useful?
Value stream management is suitable for all company sizes - from 5 employees to 5000 or more. It is also possible to analyse sub-areas of production in the first step, which can be extended to other areas in the later course of the project.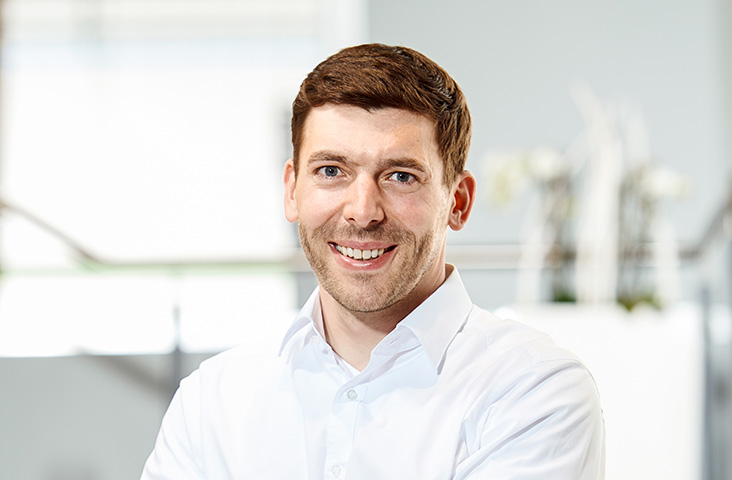 Videos about this product
That's how your colleagues produce