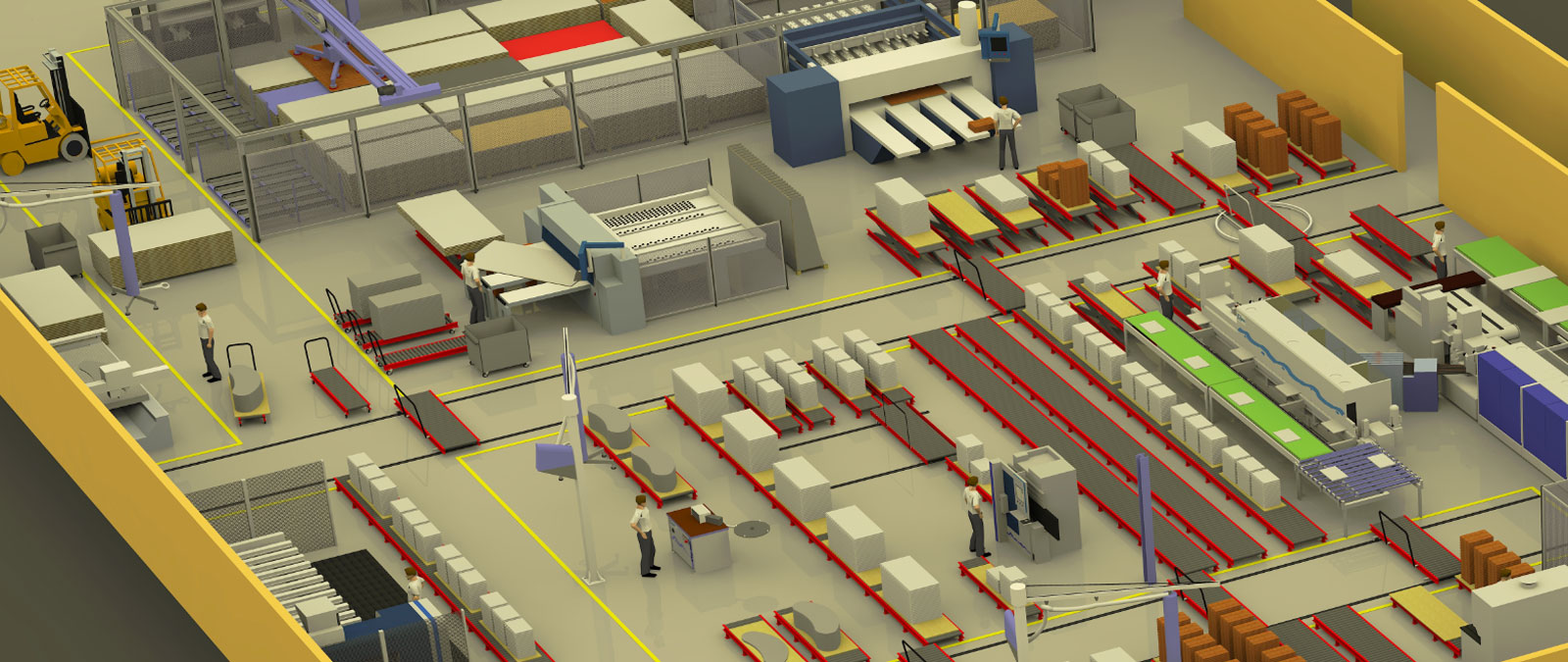 USA: On the road to the high-tech factory
Nexis 3 is at a crossroads between craft and industrial production - a project with SCHULER Consulting.
An article from the magazine HK 04/2016. Here you can read the article.
The city of Rochester is located on the shore of Lake Ontario in the State of New York and is primarily known for Kodak and the so-called "garbage plate" (a dish consisting of two cheeseburgers, fries and mac salad). In addition to these trademarks, the furniture industry has also found its place in the beautiful city. In a factory building, formerly used for the the production of Ford car parts, Nexis 3 is now manufacturing shopfitting and office furniture, among others for renowned German manufacturers.
To date, Steve Schoenacker, the owner of Nexis 3, has accomplished truly incredible things. He started approximately 15 years ago with some small machines at the age of 20. On the basis of a financing offer from Stiles Machinery (distribution company), he bought a milling machine, a saw and a planer. Today, with approximately 20 employees and a production floor of almost 6,000 m2, Nexis 3 is at a crossroads between craft and industrial production.
This is exactly where the problem arose: Steve found himself in a deadlock. Order processing, from work preparation to manufacturing complex orders, involved enormous expense. New investments in machines and work stations were needed. It was difficult for him to oversee the orders and complete them on time. He spent endless nights over layout plans and watching software demos but did not make any progress; no improvement was in sight.
In fall 2015, Stiles established the contact with SCHULER Consulting for him. During the first meetings, Steve explained his vision and what he wanted to achieve with Nexis 3, and he ended up starting a project together with Schuler.
The task at hand
Steve's vision is to produce furniture as a supplier for larger office and shopfitting companies. The order process and order intake is to be handled completely with an online product configurator. Work preparation and production itself should be paperless and production data should be generated automatically. Efficient work preparation should allow complex furniture orders and continuously changing, new customer requirements to be fulfilled, without tying up major staff capacity.
The project was split into three project phases:
Factory planning
Information and data flow
Implementation
Steve's requirements are nothing new for SCHULER. More and more companies in the furniture industry focus on having a good IT infrastructure to implement highly flexible production. Essentially, a good IT infrastructure is the basic prerequisite for flexible production which, in a best-case scenario, starts with the order intake. A good IT infrastructure particularly helps smaller companies to distinguish themselves from larger competitors, simply because they are able to respond more flexibly to complex customer requirements.
The project phases
The project started with factory planning which involved layout planning and an analysis of the work stations and working methods at Nexis 3. In order to get a better idea of the current machinery and machine capacity as well as capacity utilization, a production output matrix was created. It primarily highlighted the bottlenecks in production, but also identified dormant machine capacity potential.
Factory planning was done for a five-year planning horizon with several expansion options, depending on how the company developed. To this end, a growth forecast was made together with Nexis 3, and the output matrix was projected onto future goals. New investments can be planned and scheduled in a delimited time span based on future requirements; a growth plan with several development options, whose spatial requirements have already been considered in the layout, is developed for the factory.
The planning of work stations was also an important part of the first project phase. At the time, Nexis 3 had a large order backlog and had to change something in assembly to be able to complete all orders on time. Assembly definitely represented a bottleneck at the time. Steve's first idea was to invest in a new carcass press, but the old one was nowhere near to being used to capacity when considering pure pressing time. So first of all, the assembly environment had to be improved, e.g. in terms of material supply and working efficiency.
When observing the working methods in Nexis's production in the machine room or in assembly, it was little things, like lengthy routes or unnecessary working steps which in total represented a large proportion of the waste in the working process. Particularly routes and sorting processes are often underestimated in terms of the required time and in total offer major potential for improvement over the course of one day.
Steve's assembly line was changed in such a way that the workers only operate the line from one side in order to cut lengthy routes. Furthermore, bulk material was supplied directly to the line and monitored and refilled with a Kanban system. It was also crucial to integrate all work stations associated with assembly into the assembly line. This facilitated communication between the workers and brought about improved capacity utilization by means of job rotation.
The changes made to the assembly line and the layout planning helped tap major potential in production. Motivated by the results of the analysis, Steve immediately implemented many of the suggestions.
Project phase 2
The concept for the future layout is ready; now the Nexis 3 project will continue with the IT part. It makes sense to first have a concept for production and then to create an information flow concept for production. Production requirements, e.g. the sorting of parts (when and how) and production logistics provide an important framework for future IT requirements.
Nexis 3 currently works with many isolated software applications which causes redundant data and high expenditure for master data maintenance. The IT project aims to develop an ideal data and information flow. This includes everything in the business process, from incoming orders to planning, work preparation, creation of batch sizes and data provision, as well as data feedback in production via terminals. The result is an information and data flow model for which subsequently the right software can be selected and the required interfaces defined.
During the last project step, the IT infrastructure and the factory layout will be implemented. Nexis 3 still has some way to go before that can happen, but it is impressive how quickly Nexis 3 has adopted different ideas and simply implemented them, thereby developing further. The project is to be completed towards the end of 2016. Until then, there will certainly be a few more evenings spent in Rochester drinking Genesee beer and enjoying a "garbage plate".
Photos: Bastian Schulz / HK
Back to List