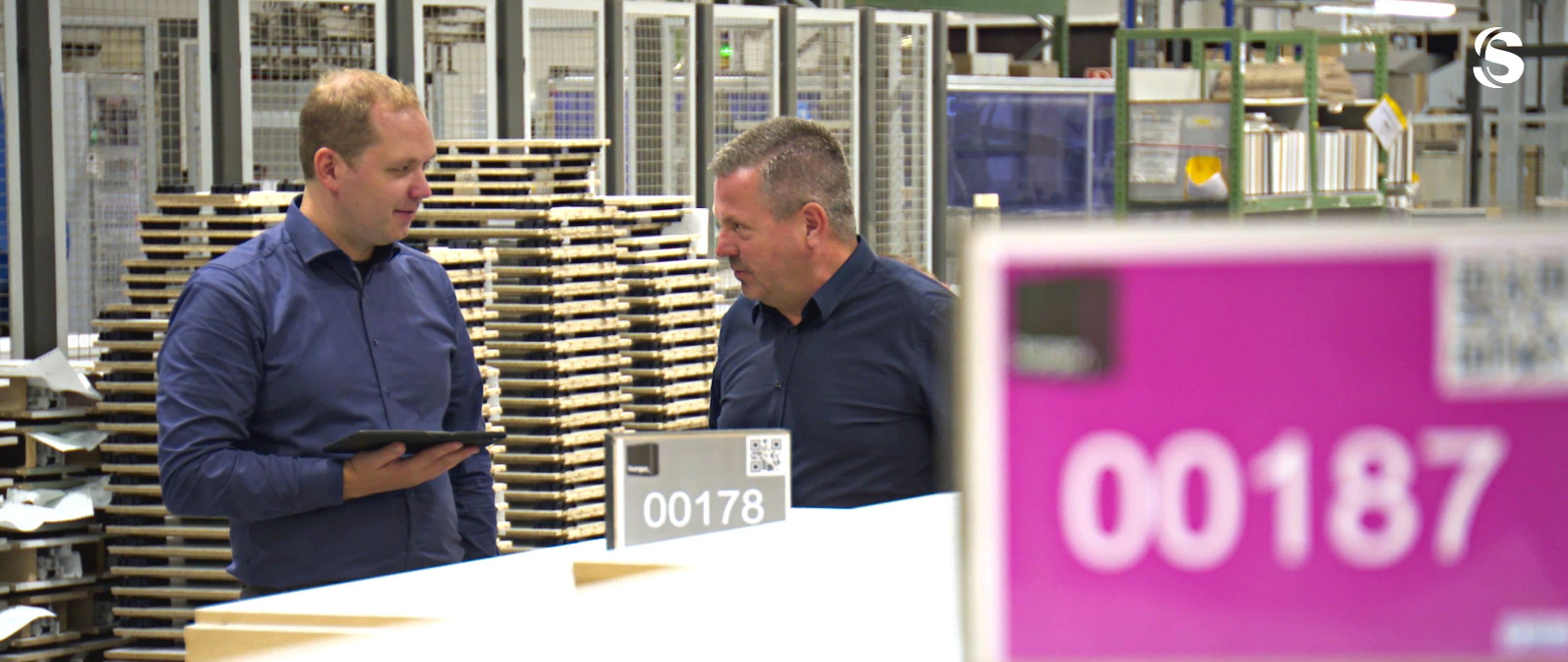 The key to success lies in intralogistics
In order to manufacture more efficiently, Burger Küchen uses SCHULER Consulting's Digital Value Stream Optimization.
Published in möbelfertigung magazine, issue 01/2023. See the digital issue here (German).
Modern woodworking machines offer high availability, deliver outstanding qualities with the lowest possible material input. And ensure excellent production efficiency. But what happens at other points in the production process? Opportunities for improvement are often found in intralogistical processes. Burger Kitchens utilises this potential with "Digital Value Stream Optimization" from SCHULER Consulting.
Reducing throughput times, cutting process costs, producing better and faster - Burger Küchen has clearly defined its goals for the future. In order to continue to achieve these goals with increasing variance and to carry out targeted process optimisations, the manufacturer needs systemic support. Burger Küchen has found the right tool in Schuler Consulting's "Digital Value Stream Optimisation". The following case study shows why the Schuler solution is an important part of Burger Küchen's strategy.
To set itself apart from the competition, the German kitchen manufacturer "Burger Küchen" has set itself a striking maxim, which is: "Be faster". One idea that follows this maxim is the "12-day kitchen". Behind this is Burger Küchen's promise to deliver a kitchen in 12 working days instead of the usual delivery times of several weeks. The manufacturer offers "kitchens made in Germany", from entry-level models to the premium segment. In Germany, the company produces around 650 kitchens a day with 1,200 employees at two locations. Together with Bauformat, Burger Küchen is part of the "Baumann Group".
The goal of "being faster" also accompanies the kitchen manufacturer in the topic of production optimisation. The Technical Manager, Martin Schockwitz, sees the greatest potential for optimisation in the intralogistics of production: "In my opinion, the potential for optimisation in the furniture sector does not lie in the machines. Rather, I believe that the intralogistics are the decisive factor." No sooner said than done: in order to reduce throughput times in production and lower process costs, Burger Küchen has been using Schuler Consulting's Digital Value Stream Optimisation in production for over a year.
The reason for the project was to examine processes that had previously been a "black box" in manufacturing. Therefore, the first task was to create more transparency in order to subsequently develop targeted optimisation measures. Martin Schockwitz reports: "In recent years it has become increasingly clear to us that we already have a lot of information for the successful mapping of a value stream, but simply not enough. Without systemic support, we will therefore no longer be able to optimally design the next optimisations. That is why we have been looking for a tool that makes value stream mapping easier for many years. With the tool from Schuler Consulting - a toolbox for the collection of information for value stream analysis - value stream analysis becomes many times easier and faster."
Seeing how production lives and breathes
The goal of the first project phase is to collect data in those production areas that have so far provided no or insufficient data. For this purpose, the sensor kit of the digital value stream optimisation is used, which enables an indoor localisation of part stacks as well as the recording of machine states. The technical set-up can be used flexibly in any production area and on machines of any age and manufacturer type. At Burger Küchen, the tall cabinet line is permanently connected to the value stream recording system.
"If you want to optimise your company, you have to understand what is going on in production. But you can't understand that if you have an insufficient database," explains Bastian Schulz, Team Leader Industry 4.0 at Schuler Consulting and founder of Digital Value Stream Optimisation. This is where the nerve is pressing for many companies, says the engineer. "There is too little knowledge about production and it is difficult to make the existing knowledge transparent. Where is my material? How long will my order take? Hardly anyone knows this and yet these are decisive factors for production planning and optimisation."
These data gaps can be eliminated by Digital Value Stream Optimisation, Schulz continues. The origin of Schuler's solution is based on classic value stream management - but now digital. Instead of using value stream maps and stopwatches, material and value streams in production are now measured by a sensor kit for machine data acquisition and an indoor tracking tool. This enables continuous data collection, without a high manual time expenditure. "Through Digital Value Stream Optimisation, we bring transparency to the processes and see how production lives and breathes," Schulz summarises. The digital solution has its appeal, confirms Schockwitz: "I find it exciting that Schuler has now made the whole thing digital. We are using a technology here that allows us to record and evaluate data in a simple way."
Targeted optimization
In the second step, after the data has been collected, it is time for optimisation. For this purpose, all data flows into a "value stream dashboard": both the data from existing systems, such as an ERP system or a production control system, as well as that data which is being collected for the first time by Schuler's value stream installation. "In the process, we collect data that we don't get today via status queries or feedback from machines. In our case, for example, this is movement data and data on dwell times in buffers. In other words, dwell times before the machine, after the machine, transport times and much more," Schockwitz reports. This data provides him with information about where unnecessary dwell times and thus waste occur in the production of Burger Kitchens. "This is incredibly important, because only with the knowledge of when a certain filling level is reached in the buffer can I trigger transports in an increasingly automated and autonomous way," explains the Technical Manager. Because in addition to the classic value stream analysis, the declared goal is to control these transports.
The central element of value stream optimisation is to bring production into harmony, as Bastian Schulz explains using a value stream dashboard: "The value stream shows us processes and stocks. Let's take the example of the tall cupboard value stream. This should be as harmonious as possible." And when is a production harmonious? The weekly comparison provides the answer. "If there is a big deviation between the value stream views of different weeks, we have big problems. For example, if there are missing parts and the cabinets cannot be assembled as a result, or parts are not in assembly at the right time - that is disharmonious. We see that in our value stream dashboard." By analysing and specifically optimising such processes, the sources of error can be identified and eliminated. Consequently, the basic idea is quite simple, Schulz emphasises: "Our goal is a harmonious value stream, then the overall efficiency of production goes up."
The future firmly in sight
Taking small steps towards the big goal - that's what Burger Küchen wants to achieve by using Digital Value Stream Optimisation. "Burger Küchen has clearly defined its goals for the future," explains Martin Schockwitz. He is convinced: you need tools for this, otherwise it won't work. "To a certain extent, you can increase the variance and reduce the throughput time at the same time. For this I need systemic support, which I have found with the solution from Schuler Consulting." And that is how it is to continue in the future. "We will use Digital Value Stream Optimisation as a permanent component of our production planning and steering process. This is not a temporary project, but a permanent installation and therefore, I believe, a very important step into the future."
Back to List