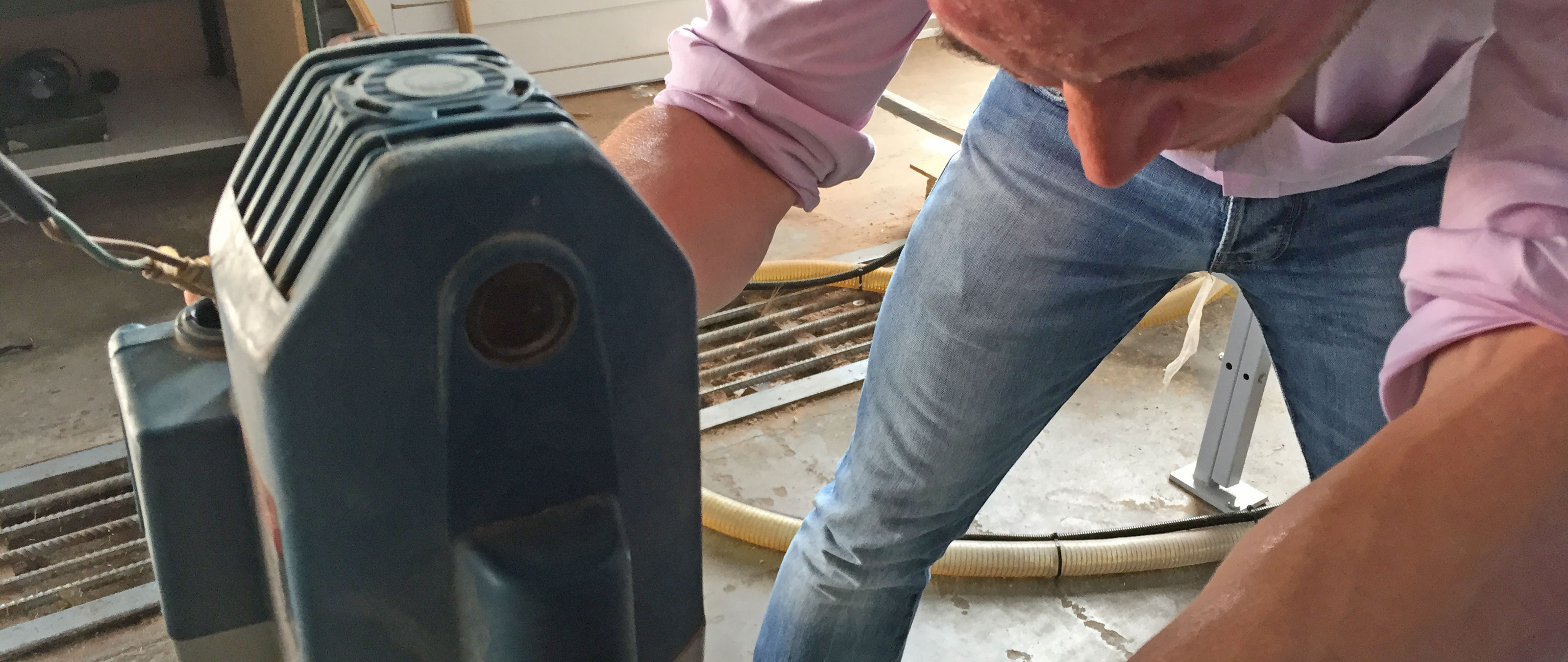 The journey of a Wood Working Consultant
For any customer seeking advice from a consultant is essential that they are receiving advice from proven individuals who have the level of experience and knowledge to do so.
To become a consultant it is essential that an individual has undertaken an 'educational journey' in which they must develop knowledge and skills over a period of time through both study and tangible experiences.
Björn Henseler, Senior Advisor of SCHULER Consulting has over 13 years' worth of experience in the woodworking industry. The enthusiastic and passionate consultant, who is based in Malaysia, has a genuine love of the challenges his job presents. Björn's interesting journey into wood working consulting began after leaving school.
"When I was when was old enough to leave school, I didn't know what I wanted to do with my life but I really enjoyed making things with my hands," recalls the German native.
"I did my levels and entered civil service after, it was during this time while making furniture and toys for children with disabilities that I discovered that I liked making furniture, so I decided to learn carpentry"
At the age of 21 he was hired as an apprentice by a carpenter that specialised in making wardrobes and kitchens. Björn recalls filling his time in between breaks contemplating how he would improve the business had he been in charge.

"I remember myself, and it sounds a little bit silly but I was on my phone writing down a list of what I disliked about the company and what I would change it if I was in charge, this list later became one of my main motivators." He said.
This list he created would later be used as tool to help motivate and inspire the next generation of students he sometimes lectures in carpentry schools.
"I make the students write down some goals on what they would change to help them achieve targets and to make them see a greater picture than what they see in front of their face." Björn states.
After 3 years Björn had completed carpentry school and stayed with his employer for a year longer in which the factory was relocated due to growth. Moving the factory presented many problems, one of which would further inspire Björn to become a consultant.
"We moved the business from one spot to another and one day my boss came to me and asked 'Hey Björn how I can fit this panel saw in? I can't make it fit' and I said 'why don't you turn it 90 degrees?'" he said
"Suddenly it solved so many problems in the factory and I thought, 'wow that was easy', I can do that. I knew from that moment that I wanted to optimise, grow and build furniture factories. And with my list and my goals I had an idea of growing and building furniture factories and wanted to learn more about how to do this."
After realizing what he really wanted to do with his career Björn needed to learn how to achieve this profession and sought out universities which would do so.
"In Germany, nearly everyone is a mechanical engineer and it is a bit over run, I wanted to be different. By chance I found this wood tech stuff, and found schools that focussed on wood and industrial engineering based in Rosenheim and Berlin"
Bjorn immediately discovered he had a huge advantage over his fellow students not only due to his practical experience with wood working, but because he knew exactly what he wanted to do he was more focussed. These skills and attributes still are present in his role today. "Having the practical skills as a former carpenter gives me a true advantage because I have a greater understanding of the whole process, I can see the issues and deliver the right solutions."
During his practical year of studies Björn spent time working in factories and it was where he first became aware of SCHULER. "I came across this little company called SCHULER, I remember reading the words 'we plan and optimise factories', this was really exciting as this was exactly what I was looking for." he said.
Björn applied for an internship and was accepted into the company which he now has been with for over 7 years. In his new role with SCHULER, Björn was able to pursue bigger goals.
"I wanted to optimise in a totally different environment, and I found that SCHULER was working with China. And so I was hired and sent to China and it was a real culture shock." Björn recalls.
"I was amazed with the difference in culture, totally different to Germany, and spent much time cycling around the countryside immersing myself in the land and learning all I could."
Björn describes the market across Asia as 'dynamic' and speaks highly of his clienteles' desire to grow, adapt and embrace new technology. With an ever growing market his skills are in high demand and he enjoys the challenges of working with this highly progressive region.
"It is very dynamic and if a client asks for an offer today, I have to deliver right there and then, if you don't deliver right there and then will forget about you. It is a very fast pace market here, they get things done, particularly in China" he said.
"In the whole of Asia, China is the one that everyone is looking at for 4.0 fully automated productions. They are fast to implement and adapt to new technology. The rest of Asian still needs some direction and guidance, and that is what I am here to do."
For Björn it is not just about him, he wants to take his clients on a journey of learning similar to his and help them build their own skills and to see the value in his counsel. "I need them to educate the customer first because I want them to understand the difference between their options and to trust me." Björn said.
"It is not that I walk in and randomly tell them they need to do to this or that, I want them to be on my side or nothing will get done because they think it is my idea. But I want my ideas to become their ideas otherwise they won't use it. People are more motivated by their own ideas. I also want them to give them lasting skills to help them to work on without me. Furthermore, I want to challenge them to go beyond what I have taught them and to use higher technology to go bigger"
Björn highlights the importance of seeking advice from a consultant like himself are just some of the advantages to the customers.
"I think it is important to speak to us, because something a salesman is not able investigate the production or understand all of the intricacies and may provide the wrong machine for the job which can slow production. If a consultant is there to help at the start we can make a big difference."
Whether you use HOMAG machinery, which is closely associated with SCHULER, or not, Björn is unfazed and is focussed on providing solutions and delivering results.
"I like independence, I like working with HOMAG but I am independent to the company, if the client has other machine brands then I will work with them to get the best performance possible. It is not about the investment costs it's about the running costs, so I think they value my independence. At the end of the day, it's not about the machine it's about the customer."
Björn's enthusiasm about the woodworking industry still hasn't slowed and he aims go one bigger in 2018 and help out more people across Asia. He is motived by a strong desire to make a difference to businesses and a genuine love of solving challenges, these attributes, backed by years of experience make him a valuable resource to anyone in the wood working industry.
"This job always offers new challenges because it is so fast and diverse, which I love. Every day I have to invent something new or different, though they may be based on the basic principles it is definitely not repetitive."
Back to List